A new electric work vehicle capable of successfully tackling the toughest work situations thanks to its OFF-ROAD capabilities. Along with precise power to suit all types of activities, the new TERRAIN EX4 offers high load capacity, lower maintenance costs, and longer vehicle life.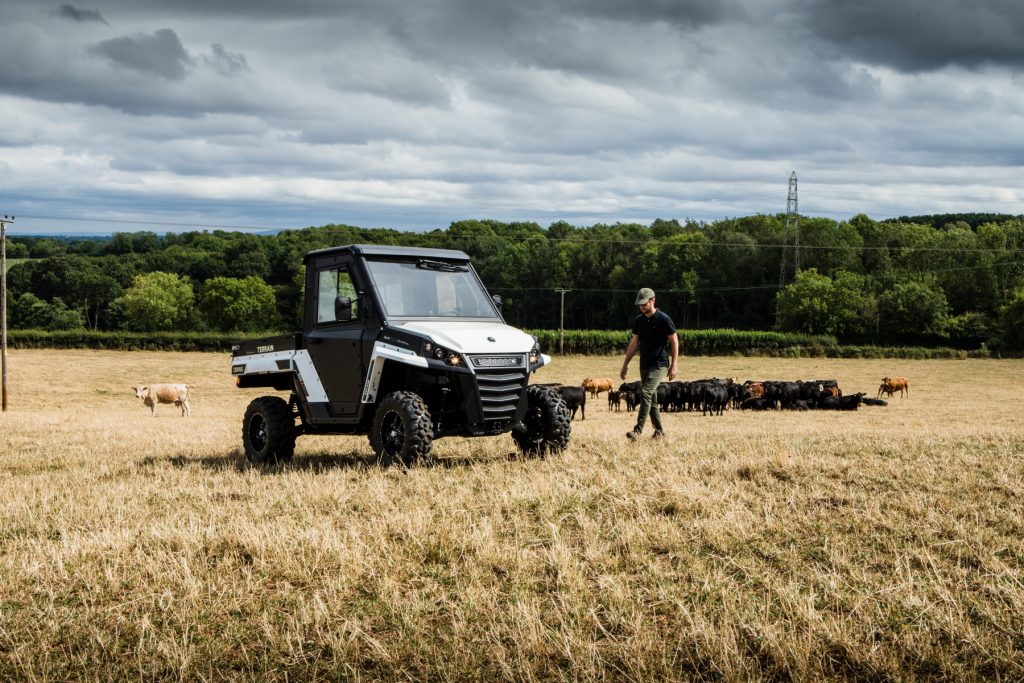 CORVUS OFF-ROAD VEHICLES is leading the off-road sector into the future, taking UTV efficiency and performance to the next level with its new all-electric work vehicle. The launch of the new TERRAIN EX4 will make CORVUS OFF-ROAD VEHICLES a new market share leader, as it is the only European manufacturer with fully electric UTVs available for purchase as early as 2022. It is a UTV that offers a more pleasant ride thanks to its quiet operation; and it has a large total load capacity of up to 620 kg. Unrivalled durability, low maintenance costs and efficient vehicle performance are hallmarks of the new TERRAIN EX4.
The new TERRAIN EX4 thus expands the product portfolio of this company hailing from Murcia, which already offers a powerful and robust 4X4 diesel vehicle: the TERRAIN DX4 is already the market leader in its category of diesel off-road vehicles. This is a highly equipped work UTV, perfect for farming, livestock and forestry work, capable of carrying up to 300 kilos in its rear box.
TERRAIN EX4 is a new global reference in the side-by-side vehicle market. "From the outset, our commitment to innovation focused on bringing the best driving experience to workers has been a priority. We want to provide our customers with what they really need to be able to cope with the toughest work situations in the best way possible. Because of that commitment to our customers and growing consumer demand, we have designed TERRAIN EX4, a new vehicle that has gone further, offering the best off-road capabilities together with a more efficient, quieter, and more enjoyable drive», says Juan José Bernal-Quirós, Managing Director of Corvus Off-Road Vehicles.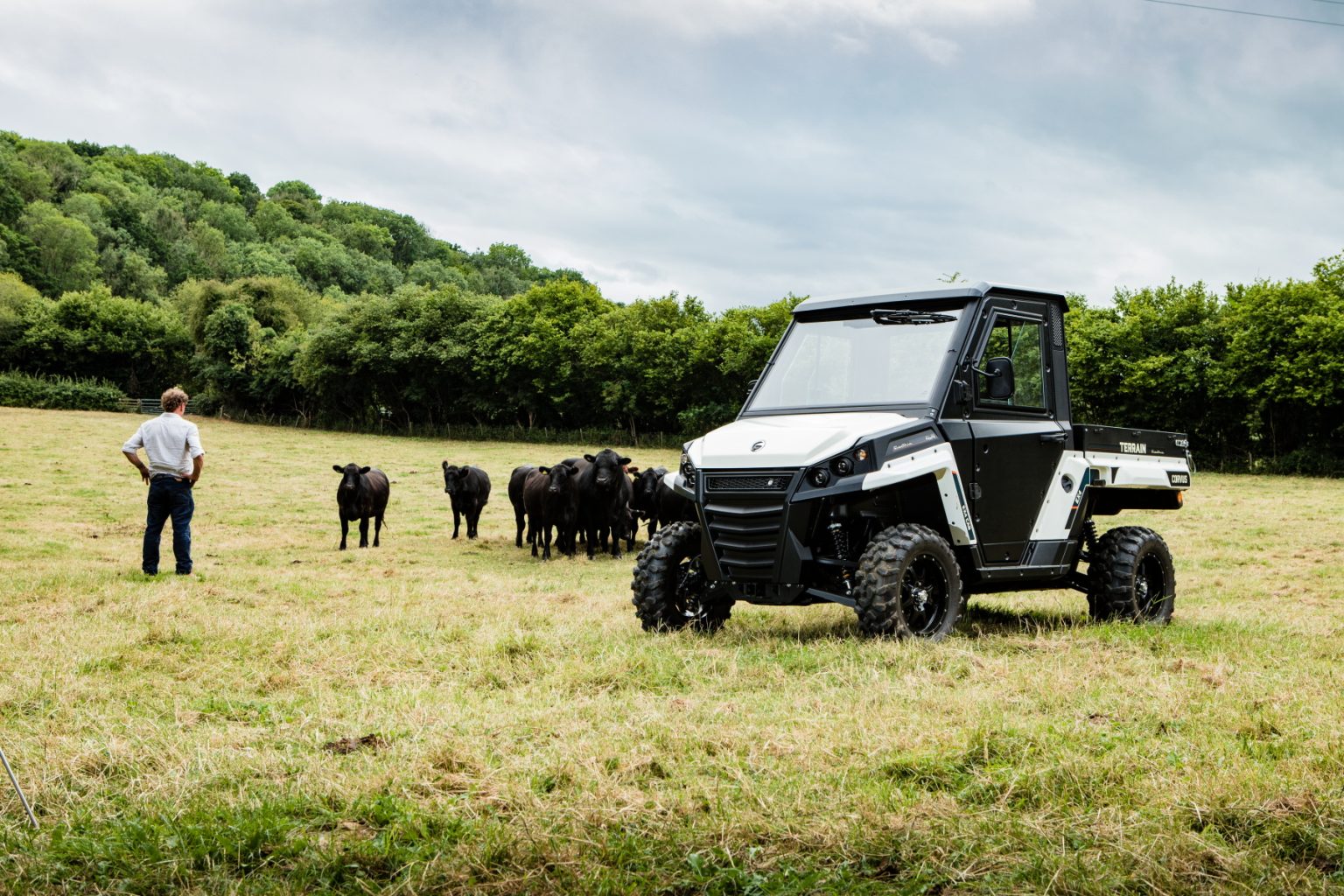 THE POWER YOU NEED FOR EVERY OCCASION
Getting the job done on difficult terrain is now possible with the 13 kW electric motor, which provides the power to transport or tow large loads with ease. In addition, the 15 KwH lithium-ion battery is designed for fast and convenient charging, making the driving experience enjoyable from start to finish. TERRAIN EX4 has a double power selector (RANGE and POWER) which allows you to electronically select the suitable driving mode.
SILENT PERFORMANCE
On routes through nature and in hectic everyday life, the TERRAIN EX4 is your best companion. The TERRAIN EX4's quiet operation makes for a pleasant ride that is very useful in your working day. The powertrain makes it easy to talk to family and friends while the vehicle is in motion and allows you to work at any time of day without noise.
 MAXIMUM STORAGE
TERRAIN EX4 has a large storage and load capacity of up to 620 kg thanks to the large dimensions of its cargo box, unique in the market. The design of the new TERRAIN EX4 is intended to offer more space for you and your equipment, with a practical front compartment for storing tools with a capacity of 45 litres or 25 kg; and three convenient interior drawers under the seat to keep everything you need close at hand with a capacity of 67 litres or 30 kg. Not forgetting the steel rear cargo box, which stands out in the market for its dimensions, durability, and lightness, where up to 300 kg can be transported in a stable and safe way.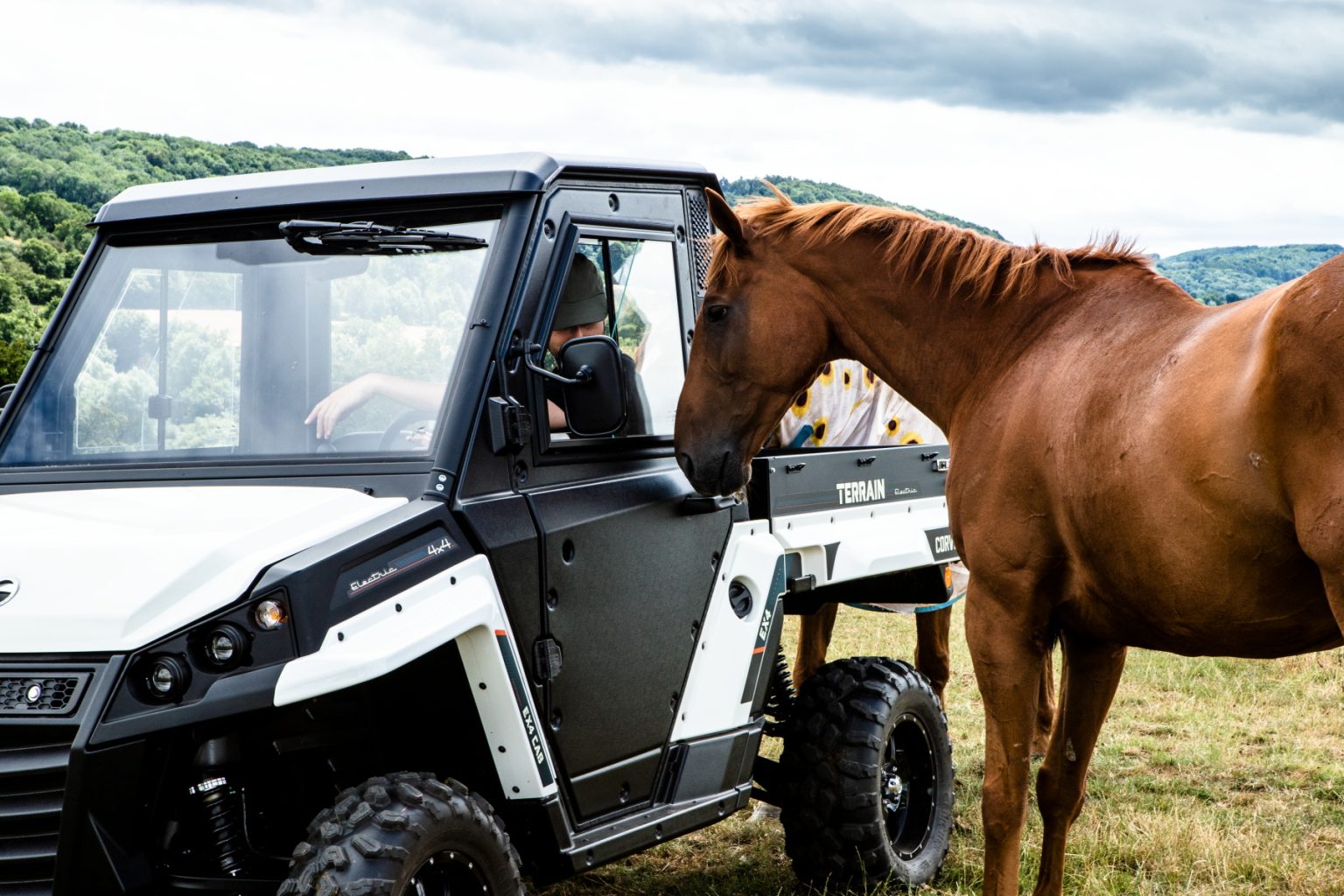 OBSTACLE-PROOF
Capable and durable, the TERRAIN EX4's 309 mm ground clearance enables it to safely overcome obstacles. In addition, its on-demand 4×2 or 4×4 traction with a rear differential lock enables the driver to master the most difficult terrain in any situation.
FAST AND CONVENIENT CHARGING
The TERRAIN EX4 has a 15 Kwh lithium-ion battery whose charging options are designed to suit specific customer needs, and it's as easy as plugging it into a standard wall socket.
PERSONALISATION
The TERRAIN EX4 is compatible with most of the current TERRAIN DX4 accessories, including the same excellent CAB systems that provide total driver comfort throughout the winter season. Additional accessories available include various front and rear protection elements, as well as various options for increased loading and towing possibilities, among others.
"Launching a new product like the TERRAIN EX4 has been a real challenge, because at CORVUS OFF-ROAD VEHICLES we offer a product that is already a leader in its class, the TERRAIN DX4 diesel vehicle, so with the TERRAIN EX4 we felt a huge responsibility to once again achieve excellence. We had the advantage of working with a team who is passionate about the automobile world and that is truly leading the company into the growing international territory we find ourselves in", says Juan José Bernal-Quirós. "The combination of the best technology, our passion for designing new work vehicle models and CORVUS' dedication to consumer-driven innovation has created an all-new electric TERRAIN that offers an incredible driving experience," concludes Juan José Bernal-Quirós, Managing Director of Corvus Off-Road Vehicles.
***The TERRAIN EX4 will reach dealerships in the last quarter of 2022. See our extensive dealership network here:  Dealerships – CORVUS UTV (corvus-utv.com)
Do you have any questions to solve?
Contact us through this form. Thanks a lot!